Back to News
WCCHS Student Represented Canada at Lifesaving World Championships
Posted on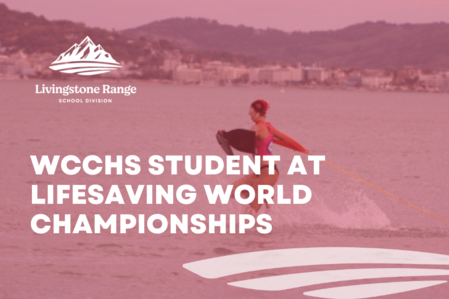 "Competing against Olympians, making three finals, and getting a couple of personal bests were the main highlights of the competition."
That's what Grade 12 Willow Creek Composite High School student Lydianna O'Neil says about her experience at the Lifesaving World Championship. Lydianna was part of the Canadian National Team that participated in the competition held in Riccione, Italy from 18 September 18 to October 3, 2022.
Lydianna, who has been swimming competitively with the Claresholm Krakens club since she was 6 years old, started with the Junior Lifeguarding Club during winter to keep in shape for summer swimming. Her coaches discovered she had quite an edge for lifesaving competition swimming and Lydianna began training with Lethbridge Amateur Swim Club (LASC) followed by Maxbell Mantas also out of Lethbridge. 
"They told me I had a chance of making it to the world championship," says Lydianna, "so obviously I had to go for it, and I ended up making the Canadian team!"
At Canadian Nationals Lydianna was selected as one of three young women in her age category to represent Canada at the World Championship in Italy. The training was intense, particularly as the Championships include an ocean competition.
"I've never done an ocean competition before. It was an extreme learning curve and let me tell you it's 10 times harder to swim in the ocean than in the pool!"
The Canadian team trained three times per day in Italy and when competition began, they were either at the beach, pool, or hotel resting up for the big event.
Lydianna's mom, Tiff O'Neil, traveled to Italy to support her daughter in this significant opportunity. "Both her Dad and I cannot believe what an incredibly strong young lady Lydi is becoming," says Tiff. "She has so much passion for lifesaving and the sport of swimming, not only for her own personal goals but as a coach and mentor for the younger generation. We can't wait to see what she will accomplish next and where she will go in life."
Where she goes is likely going to continue representing Canada at world lifesaving competitions. "My future goals, hopes, and dreams are to be on the Canadian National Team at least two more times," says Lydianna. "The next competition is the Commonwealth Games in Windsor, Ontario in September 2023. I think my main goal though is to go with the Canadian national team to Australia in September of 2024!"
These aspirations seem well within reach for this 17-year-old and we look forward to watching her continued success in lifesaving competitions.
World Lifesaving Championships 2022