Back to News
Week by the Creek at Isabelle Sellon School
Posted on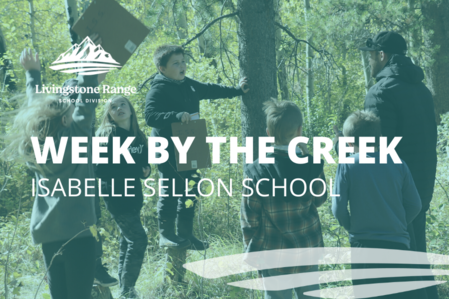 Students at Isabelle Sellon School used school as a basecamp for a week of learning in and around their community, where innovative learning experiences modeled the school's W.I.L.D. philosophy. During the week of September 20-24, 2021 students were encouraged to W-wonder about the world, I-imagine their dreams, L-live in nature, and D-do caring things.
"Week by the Creek" allowed all Grade 4-6 students and staff to embrace teaching and learning in a whole new way: place-based learning. With a goal for students to learn from real world experiences, develop stronger connections to their community, and enhance their appreciation of the amazing landscape and natural environment, administrators and staff prepared an amazing experience.
Monday, students were guided by Wildsite staff, Janelle and Sarah. Students learned about benthic macro-invertebrates (which make up 95% of life on planet Earth) by investigating the Crowsnest River. Students were scientists looking for these species in the Crowsnest River using specific techniques to gather and identify macroinvertebrates. 
Supported by Wildsite staff on Tuesday, students were in Isabelle Sellon School's backyard forest ecosystem to build an understanding of the forest using their senses. Students created their own forest colognes, completed a 'sound' walk, identified species of trees and even interviewed a tree! A big thank-you to the Crowsnest Conservation Society for funding two days of Wildsite programming.
Wednesday and Thursday students took time to reflect on the stories of the Crowsnest Pass that have been captured by our local newspaper, The Pass Herald. Newspaper editions were distributed so that students could read headlines matching their date of birth. Students also learned about the history of the newspaper. Much gratitude to Lisa Sygutek for sharing newspaper artifacts and stories of our community!
Music classes were held at the Blairmore Gazebo with Mrs. Neudorf on Wednesday and Thursday for all students. Students sang, created music with boomwhackers and rhythm sticks in the park. Art classes, also at Gazebo park Wednesday and Thursday, involved Mrs. Reeve leading students through sketching activities and artwork on tree cookies. 
Friday, each class listened to oral storytelling to build an understanding of indigenous culture and traditional ways of knowing. Thank you to Ms. Alison Sandilands for sharing her Cree stories around our firepit. Students and staff also proudly wore orange as an act of reconciliation on this day.
Throughout the week, classroom teachers also led their students through a variety of hands-on learning experiences to build a culture of place-based learning at Isabelle Sellon School.
Isabelle Sellon school is grateful to local community for their partnership in student learning and growth! Also to Jessica at Stone's Throw Cafe- thank you for welcoming any students who required a 'pit stop'.